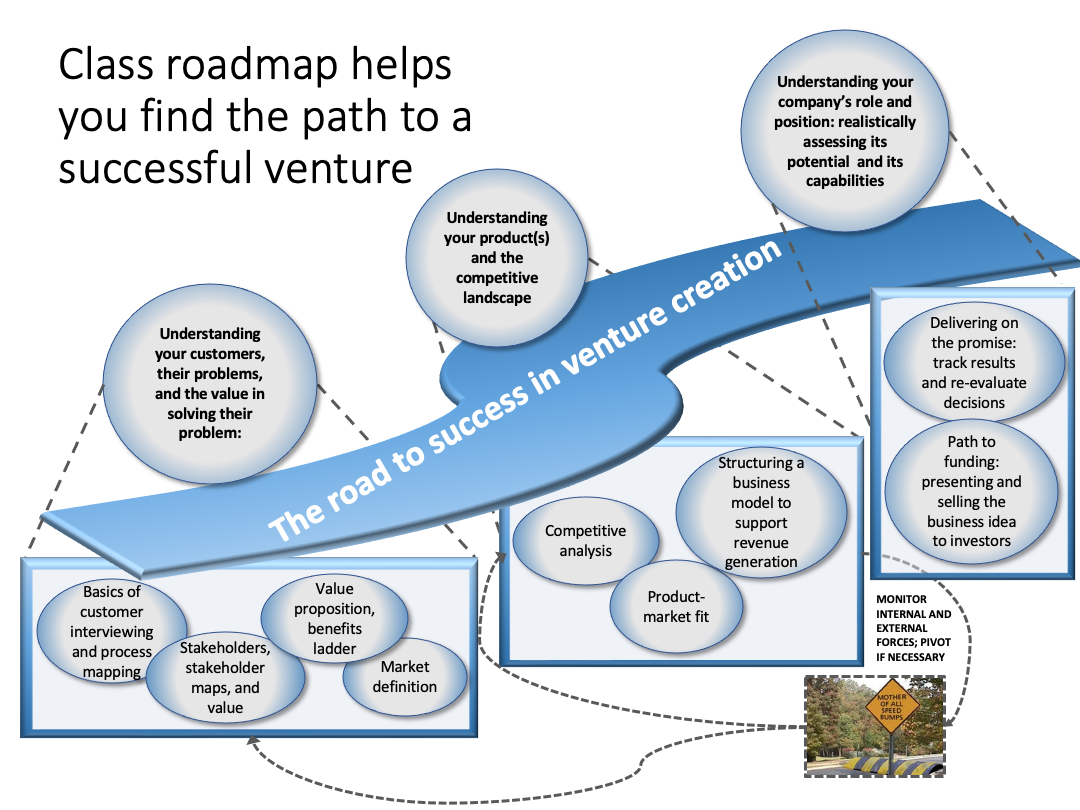 Certificate of Accomplishment & Grading
All course participants will be given a signed certificate of accomplishment at the conclusion of the course. The certificate will be personalized with the student name, team name, and student grade. These will be presented on the final day of class.
Grades will be based on class participation, assignments, and course project.
Attendance & Participation: 20%
Team Projects: 80%


Assignments 25%
First Advisory Panel Presentations: 20%
Final Team Presentation: 35%
Attendance
Because this class is an interactive, team-based course, ​regular attendance is mandatory. Video recording will be available for students that cannot attend a class or want to replay teaching or speaker sessions. ​Please contact the TA if you need to miss more than one class.
Here are the standard Expectations of Remote Students at MIT Sloan which we will adhere to in Healthcare Ventures:
To connect to the video conference meeting on time and to be entirely settled in a controlled environment by the beginning of the class meeting.
To maintain an uninterrupted video image of one's entire face throughout the duration of the class. Interruptions of a remote student's image is considered the equivalent of a local participant exiting the room. This includes poor framing, bandwidth, lighting, or obstructions to a student's webcam.
To be present and attentive during class. The TA will remove students from the meeting if they are engaged in other activities, unresponsive in the chat, or disruptive to the class.
To wear headphones, preferably with a built-in microphone.
To set usernames to display full name, program, and graduating year (e.g. John Doe, EMBA19).
To interact with instructors and local participants through audio or with the TA in the chat feature.
To direct all content specific questions to the TA and technical support questions about your personal technology to Zoom.
Note on Video recording: As noted above, we will be recording lectures, which can be made available on request. You may opt out of being included in the recording. When we are recording during an in-person session, please select a seat that is not included in the camera. Ask the TA if you are unsure where that might be. When we are recording during zoom, we will relax the policy stated above during the time recording is active. Specifically, you can turn off your video, and, if need be, rename your zoom name to Anonymous. Once recording has stopped, we expect you to restore your name and turn on your video.
Class Sessions
Tuesdays 3:00-4:00PM - virtual, via Zoom
Thursdays 4:00-6:00PM - in person, E62-233
Note, students are expected to attend both the Tuesday and Thursday sessions.
Class Description
Healthcare Ventures explores the process of early-stage healthcare venture creation and models the process of entrepreneurship, amid navigating healthcare's complexities. The course is an opportunity for those who seek careers at the intersection of healthcare innovation, medical technology startups, global health and healthcare venture capital. This course lends a taste of the process needed to discover, evaluate, and test new technologies and business models with broad potential to impact human health. Course content and process have taken principles from MIT Hacking Medicine, Product-Market Fit, Human-Centered Design Thinking, Agile Sprints, Business Model Canvas and tailored them to the complexities and tectonic shifts of healthcare, both in the US and globally. An emphasis will be placed on understanding the Business Models and Economic Buyers for your healthcare innovation while developing a plan to design and launch a product or service.
Outside Speakers
Over half of the classes will include outside speakers from startups, venture capital, healthcare systems, government, pharma and med tech. Past years speakers included Google Ventures, PillPack/Amazon, Sequoia Capital, MIT Engine Fund, Blue Cross, Bain Capital, IDEO, Aetna, Fidelity, True Ventures, Verily/GoogleX, GE Ventures, Langer Lab, HHS, Atrius Health ACO.
Your Project/Venture/Problem Idea
If you have already conceptualized or done preliminary work around a potential solution for a pain point in healthcare, the Healthcare Ventures faculty invites you to share it with us for consideration as one of the class projects. We need ideas that are still in a sufficiently early, formative stage so they can be developed during the class and thus provide a foundation on which the key concepts of new medical venture development can be taught. These concepts include, but are not limited to, de>ining your market, understanding your customers, identifying and evaluating various stakeholders, analyzing the competition, and defining a value proposition and product/market fit. The objective of the class is to help you to understand and engage in the process of evaluating and developing a business opportunity. The class is not intended to create a viable business opportunity at the end of the semester. So, an idea would not be acceptable if it is too far along to benefit from the disciplined approach to entrepreneurship that we teach in class. If you don't have an idea, that's OK too; you will be able to choose a team/project that interests you. In past years, members of the class have advanced many interesting, impactful problems, and some have actually served as the foundation for building successful businesses. Please contact our TA to arrange an appointment with one of the faculty members so that we understand your idea in sufficient detail to ensure it meets the criteria outlined above, and to make sure you get the most out of taking the class. We look forward to speaking with you!
Themes for Healthcare Ventures
Some teams will form around ideas proposed by your classmates. Other teams will want to consider areas that are emerging trends ripe for disruption in healthcare. Theme that represent areas of significant opportunity include:
Administrative automation and digitization (e.g., Cedar, Olive)
Disease management and therapeutics (e.g., Omada, Hinge Health)
Screening and diagnostics (e.g., Arterys, Modern Fertility)
Drug discovery (e.g., Atomwise, insitro)
Clinical trials (e.g., DNAnexus, Science 37)
Clinical intelligence and enablement (Unite Us, BrightInsight)
Primary and urgent care (e.g., Carbon Health, Cityblock)
Specialty care (e.g., Somatus, Cricket Health)
Pharma supply chain (e.g., Capsule, Truepill)
Health plans and benefit management (e.g., Carrot, Lyra)
Real world evidence (e.g., Tempus, Medbanks)
Virtual care delivery (e.g., hims & hers, Doctor on Demand)
Women's health (e.g., Maven, Elvie, Tia)
Health & fitness (e.g., Fitbit, Withings)
Genomics (e.g., 23andMe)
Healthcare/DAO/Fintech
Remote monitoring (e.g., vitalconnect, eCaring)
Web3/Crypto
(It's ok if you don't know yet or don't have a strong preference!)
Action Learning Lab for Healthcare Ventures
Most of the longer Thursday classes will have 4 parts: faculty lectures, outside guest speakers, and small team breakout sessions.
After teams are formed in the early classes, you will begin by exploring, defining, and deepening your understanding of the unmet need and of the value of transforming the outcome. In the second block, you will consider and test potential value propositions, and finally, in the third block, you will craft a business model and pitch. Teams will witness the development, challenges, and progress of the other teams attacking different areas of healthcare in the course at regular intervals. By the end of the course, students will have experienced best practices in identifying and validating health venture opportunities, amid the challenges of navigating the healthcare/disease mapping, team dynamics, and venture capital pitching process.
For 2022 grads, this class fulfills a requirement for the Sloan Healthcare Certificate as 15.132 Medicine for Managers is not offered this spring.
Course Faculty
Zen Chu ( zenven@mit.edu )
Michael Dempsey ( dempsey@mit.edu )
Martha Gray, PhD ( mgray@mit.edu )
Arthur Hiller ( ajhiller@mit.edu )
Ayesha Khalid, MD/MBA ( akhalid@mit.edu )
Alice Pomponio MPP ( pomponio@mit.edu )
TA: Tom Luly (tluly@mit.edu)
Interested in the class? Sign up here: https://airtable.com/shrTmyFekzEs8IO0V